Self I Myself
The way we appear, or do not appear in a dream, represents our relationship to, opinions of, and hopes for self.
The struggle for Identity
The image we have of our self in our dreams shows the struggle we have with who we think we are. It is the way we gain identity. In this struggle. this adventure – very like the Odyssey – we meet all manner of creatures, people, demons, temptations. We travel into dark places, climbs to the heights of wondrous experience, discover magical powers. One of the functions of dreams can therefore be thought to be that of aiding the survival of our identity in facing the multitude of influences in life – and even in death.
Dreams show us that our personality is a small thing that only includes a small part of what we are. In Jung's portrayal of the self, our ego is only a small part of us, the complete sphere depicts our Whole.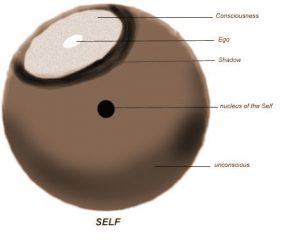 The Search for Self:
Some dreams are about showing us who we are. Such dreams may at times seem puzzling because they lead us into into uncertainties and a sort of void. To understand this better see The Archetype of the  Self:  Void  – Archetype of the Void – Dream Example 3 –