Witch Witchcraft
The fears or difficult feelings and relationship habits you have developed in relationship with your mother. Because these feelings are now part of you, if female, you can of course become the witch in relationship to someone else. The witch in drama is often depicted as an expression of vindictiveness, jealousy etc.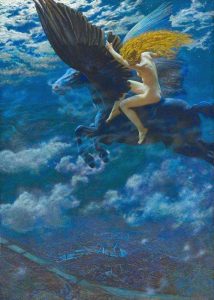 Witch on black Pegasus
Example: 'I talked about my mother, she was standing before me in full anger and blaming me for bringing out the witch in her. She said look at my eyes, they were horrid to see, all red and angry and she was dark.' Lesley M.
Witchcraft started long before the written word, for it was a natural part of many women's life, and still may be. As life-forms humans have a heritage of being an outcrop of creation itself, and so carry a huge animal heritage of finding healing herbs, of having insight into others and the future, of being channels of power and also having an inbuilt entry into the inner world – often called the psychic world.
No plant or creature grows from a dead seed, and each living seed carries within it all the past gathered from all its forebears. So, the seed in your mother's womb is as old as and even older than human kind, and you carry that wisdom or memories in you. But in this life you developed a new brain, and the memories, education and programming you gathered this time are what you built your personality from, but beneath that is a very ancient self. It is this ancient self that witches had or have access to. For witchcraft isn't a club or a religion one belongs to, it is a natural thing born in many women, as natural as being able to have children.
As such it had no organised way of existing, like early Christianity it had no rules because it was an outgrowth of the life process itself – ever creative – but as with Christianity it was taken and formalised by the Catholic Church. Witchcraft didn't conform to these rules, because witches had no formalised way of being but like everything in nature they were all unique – fingerprints; something the church abhorred. This led to the terrible murdering of women who showed signs of contact with the ancient self – and then as an excuse to kill, murder any man or woman who showed signs of uniqueness – reading and interpreting the bible in their own way, forming alternative beliefs or practices, or standing up and denouncing the church. See Amersham Martyrs – George Fox – Witches – Super Heroes and Mythical Creatures
Unfortunately the media, films and TV, tend to use the old clichés about witches and portray them as evil, jealous and revengeful. But if you are not imprisoned by the Christian view, your dream witch can be a wonder to explore. See Practical Techniques to explore dreams