Follow Me Up The Inner Mountain
WHAT ARE DREAMS
When I was working on the new site design, the designer said to me, "What's the point of dreams – they don't mean anything do they". I noticed he had a T-shirt on that looked as if had been used quite a lot. So I said to him, "What about that T-shirt? If you dreamt of it what would you think it meant?"
He said it wouldn't mean anything. So then I asked him where he had got it and what memories were attached to it. He said he had got it in America, but when pressed to explain his memories he refused to answer, looking embarrassed. I felt he had an affair while in the USA and T-shirt was tied in with memories of it.
The video What Are Dreams goes deeper into answering the question – https://dreamhawk.com/videos/meet-me-here/
The next video depicts a crazy old man's (Tony's) feelings and experiences gathered during his unusual life. It was filmed by Joe Campbell a long time friend and my son Quentin Crisp
If you have watched the video there are things mentioned you maybe would like more information about things like 'self regulation'. Here are some things to explore.
The Whole Thing – http://dreamhawk.com/dream-encyclopedia/features-found-on-site-2/
Self Regulation – https://dreamhawk.com/approaches-to-being/opening-to-life/ and https://dreamhawk.com/dream-encyclopedia/transformation/
Christ – https://dreamhawk.com/inner-life/meetings-with-the-christ/
Tony's Biographical Notes – https://dreamhawk.com/tony-crisp/biographical-information/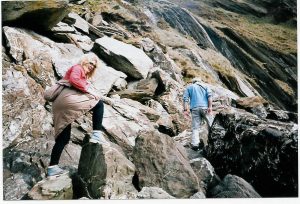 Going up the mountain
Then we Reached the Top