Antlers
Because they are the growth and protective tools of some male herbivores, they may represent conflict between males or protection of the female. The male often links with bold and powerful masculinity and sexuality in a natural and potent form. They can also suggest supernatural power when worn by shaman's or in initiatory rituals. Also, because they are the sign of a male seeking a mate they might be linked with power over nature and fertility.n also be seen as a wall trophy of the hunt for a woman – or just as a sign of male prowess. They are also a sharp and defensive weapon, either against other males or to herd females.
The following dream by a woman is obviously about her feelings about mating.
Example: The three of us were on our way to a lively night out and I suggested a short cut through Richmond Park. Suddenly this old man stepped out and advised us not to do so as stags were rutting. I thanked him and replied they would be too busy to care about us. As we walked through, trying to ignore the fact the stags seemed to be stuck together, we felt relieved. Suddenly an enormously big stag with tremendous horns and a leering and vicious expression came swaying toward us after breaking free of a female deer. Jasmine C."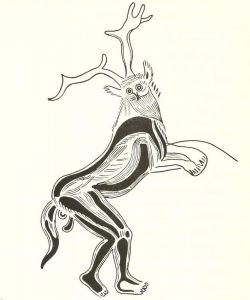 "In the Trois Freres cave in France, a man wrapped in an animal hide is playing a primitive flute as if he meant to put a spell on the animals. In the same cave, there is a dancing human being, with antlers, a horse's head, and bear's paws. This figure, dominating a medley of several hundred animals, is unquestionably 'The Lord of the Animals.'
The further back we go in time, or the more primitive and closer to nature the society is, the more literally such titles must be taken. A primitive chief is not only disguised as the animal; when he appears at initiation rites in – full animal disguise – he feels himself as the animal. Still more, he is an animal spirit. At such moments he incorporates or represents the ancestor of the tribe and the clan, and therefore the primal god himself. He represents, and is, the "totem" animal. Thus, we probably should not go far wrong in seeing in the figure of the dancing animal-man in the Trois Freres cave a kind of chief who has been transformed by his disguise into an animal demon". Quoted from Man and His Symbols by Jung. See Mammal Brain; ShapeShifter.
The following dream is about a woman seeking the spirit of manhood to carry her off.
You helped me a bit with my dream. In my dream I was in a forest, and in front of me was a herd of deer. They all ran away except for a single stag. Suddenly I was beside it, and in my head, I asked if he wanted me to ride him. I saw his eyes and then climbed on his back. As soon as I grabbed on to his antlers, he ran off with me.
The next dream is an encounter with the energy we have within us that is our inner animal. But it is communicating you must not go this way until your personality dies. Death is a part of initiation because the usual human person cannot open to the enormous world of the unconscious because they are frightened of it, and so have to let themselves completely enter their inner world to become a different person.
I dreamed that I was driving my car on the highway and I saw a huge moose on the road. So, I stopped, hoping the moose would move. Then all of a sudden, the moose charged at me (at this moment I thought: I'm going to die), then the moose charged right through my windshield with its antlers. I went flying back with glass exploding everywhere, and then I woke up.
The next dream is an example of this death and its transformation.
There was another big hill, but this one was covered with vines, grass, and tree bark maybe half a foot deep. I was watching a bunch of elk with weird antlers eating when I noticed a big ball of fog roll in. It was at the bottom of the hill, which was connected to the ocean. The fog turned into what looked like dandelion seeds and they multiplied by the thousands until it was a solid, floating mass that not even air could fit between. It started spreading toward me, so I tried to run up the hill. I couldn't, though, because of all the forest debris in the way…it was like quicksand. Then some seeds got into my lungs, populated, and suffocated me. Then I died and somehow transformed into an elk and started eating grass.
The following is an attempted interpretation.
The ocean is that from which our life has sprung, and so it is the source of the enormous urge to promulgate. I see the dream as a way of illustrating your desire to attain and to meet with the extraordinary urge to promulgate, to populate. But the urge is not just to procreate with a child but to express your essence and make it real in the world. When you realised the cloud was too much for you to deal with you tried to climb above it, but the bark was in the way. I see the debris as all the thinking and words you have collected and are bogged down by. Like words they are lifeless protective things that fall away. You tried to grow or rise by thinking or trying too hard.
But then you died – you no longer expressed your ego -because the seeds suffocated you. The path you are trying to walk is up the hill toward a greater awareness. But death is a necessary part of that. Your personality that has been raised on words and thinking has to die to make way for growth. This type of death is like the spider that sheds its skin because it has grown too tight. So, death is like recognition that we have grown as far as we can in our present mind state. That mind state has to die to give birth to another one.
And then you meet and become your totem animal. This is very much a Native American dream theme, and according to tradition it means Moose represents self-esteem and is also about the magick of life and death. Late autumn and early winter is moose's cycle of power.
Useful Questions and Hints:
What are the qualities of the deer in your dream?
Does it link in any way with a feeling of entering the magical realm of nature or the unknown?
Are you feeling about it as you would with a female?
If a stag, are there symbols linking it with sexuality, such as its horns or its attraction to you?
If you use Talking As it may help you discover the natural part of you.