Witches Witchcraft and Wicca
If dreamt about, it suggests the fears or difficult feelings and relationship habits you have developed in relationship with your mother. Because these feelings are now part of you, if female, you can of course become the witch in relationship to someone else. The witch in drama is often depicted as an expression of vindictiveness, jealousy etc.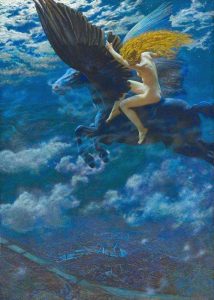 Witch on black Pegasus
Example: 'I talked about my mother, she was standing before me in full anger and blaming me for bringing out the witch in her. She said look at my eyes, they were horrid to see, all red and angry and she was dark.' Lesley M.
Witchcraft started long before the written word, for it was a natural part of many women's life, and still may be. As life-forms humans have a heritage of being an outcrop of creation itself, and so carry a huge animal heritage of finding healing herbs, of having insight into others and the future, of being channels of power and also having an inbuilt entry into the inner world – often called the psychic world.
Example: While in Ireland I sought a place to stay and came across a pub/inn that had a room I could sleep in. I wanted to be alone because I was struggling with feelings linked with just having broke up with a woman I had loved. I was thinking of going to sleep when the pub came alive with people's voices and music. It was too loud for me to sleep and so I went down to the pub to see what was going on. The Irish are an extraordinary people and so the party had a similar extraordinary air about it. Before long an attractive woman held me in conversation which was leading toward being together. I explained that I was still struggling with a past relationship whereupon the woman looked me straight in the eye and said, "We'll see about that that", and she put her hand on top of my head. I felt like a strong electric current ran right through me. It was a very strange thing because the difficult feelings I had been struggling with had gone.

Example: But there has been an almost an unendurable pain lately and I thought I was going mad, and I felt it was due to living with my wife, Jane and her mother. Every time I came home the grinding pain would begin in my belly. I mean literally a physical pain. I picked fault with Jane. It got so bad a few days ago I couldn't talk to or get near anybody. Yesterday I exploded over her mother's action in our home.

Jane had gone out with her mother and I was left alone in our house. For the first time in my life I had a tremendous desire to go out and get drunk to drown the pain. Instead of that I went off in my car and explored the feelings to see if I could find out what was going on. As I lay in the car it was as if I searched through my whole mind and psyche to see, or to find, the madness. Everything seemed healthy and normal. So, I went searching again with the same result. It seems I had a healthy and sturdy structure in my mind. So, this time I went looking for the cause of the pain, and what I found was that I had an intuition that her mother was trying to influence Jane to get rid of me, and take over the place so they could live together. When I got home I put this to Jane and she said her mother had been talking in that vein. This was like an enormous load taken of me. And for the first time I realised that people could enter into one unconsciously and cause great pain.

I have experienced the same thing from other people, and it reminds me of the enormous negative power some witches, female or male, have on others,
No plant or creature grows from a dead seed, and each living seed carries within it all the past gathered from all its forebears. So, the seed in your mother's womb is as old as and even older than human kind, and you carry that wisdom or memories in you. But in this life you developed a new brain, and the memories, education and programming you gathered this time are what you built your personality from, but beneath that is a very ancient self. It is this ancient self that witches had or have access to. For witchcraft isn't a club or a religion one belongs to, it is a natural thing born in many women, as natural as being able to have children.
As such it had no organised way of existing, like early Christianity it had no rules because it was an outgrowth of the life process itself – ever creative – but as with Christianity it was taken and formalised by the Catholic Church. Witchcraft didn't conform to these rules, because witches had no formalised way of being but like everything in nature they were all unique – fingerprints; something the church abhorred. This led to the terrible murdering of women who showed signs of contact with the ancient self – and then as an excuse to kill, murder any man or woman who showed signs of uniqueness – reading and interpreting the bible in their own way, forming alternative beliefs or practices, or standing up and denouncing the church. See Amersham Martyrs – George Fox – Witches – Super Heroes and Mythical Creatures
Unfortunately the media, films and TV, tend to use the old clichés about witches and portray them as evil, jealous and revengeful. But if you are not imprisoned by the Christian view, your dream witch can be a wonder to explore. See Practical Techniques to explore dreams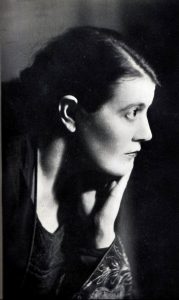 Eileen Garret  was maybe a modern natural witch born in Ireland, and so sensitive to the inner feelings of people, Eileen found school difficult, as she was in contact with so many people. To heal herself from the shock of so many impacts she learnt to allow her awareness, or as she describes it, "a fluid part of myself,"  to flow out to plants, trees and the earth, and feel connected with all living things. This ability developed to the point where she could extend her awareness to people or objects at a distance and feel as if she were part of them. She could sense the innermost condition and history of natural things, and the health and thoughts of people. See Super Minds – https://dreamhawk.com/interesting-people/superminds/